Couch Removal Services
Not sure where or how to get rid of that old sofa? Call the experts at Junk Bunker for professional old couch removal!
Sofa Removal Service Accommodating Your Needs
Don't let that outdated, worn-out sofa collecting dust weigh you down! The task of having to get rid of an old couch can be intimidating, resulting in it being continuously put off for another date. Although it might seem like a simple chore, hauling bulk furniture like couches can be very dangerous without the proper help or equipment. On top of that, you would have to find a disposal location and find a way to get the sofa there. Instead of going through all this trouble, we offer a favorable solution: our reliable couch removal service!
Junk Bunker makes junk couch removal easier than ever by adapting to your needs and schedule, even offering same-day sofa removal! And with us, you won't have to move a muscle. Since our company is full-service, we always give a complete job, handling sofa hauling, removal, disposal, and even cleanup!
Why Us for Couch Removal?
At Junk Bunker, we're your friendly neighborhood junk people providing countless residential and commercial services that ease your mind! Our company is locally and family-owned in Frankfort, but we gladly serve other areas in surrounding communities, too. You can trust our couch removal service– our crew is skilled, licensed, and insured to get it done right, yet fast
Reasonable, No-Nonsense Pricing
Even as junk removal specialists, we believe our couch removal service should be affordable. Since our company is local, we don't charge generous add-on fees that come as a surprise at check-out. Instead, we roll all costs into one, all-inclusive rate that we share with you before getting to your sofa removal service! Your couch removal cost would be based on the amount of space your junk takes up in our trucks.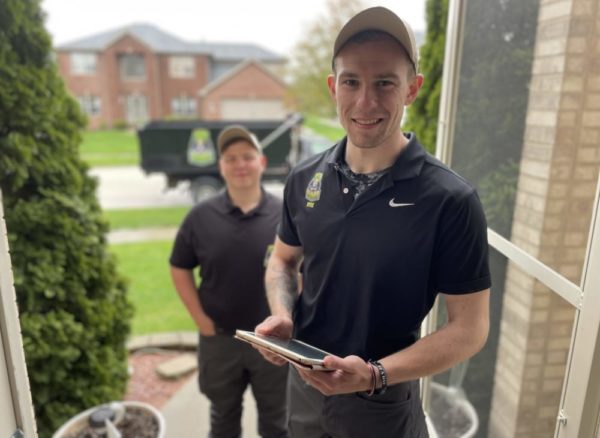 Our Process
Just give us a call or book us online to request your appointment for a couch removal service.
Upon setting your appointment in our books, we'll contact you to talk pricing! That way, we can give you a free service estimate.
If you chose to move forward, our team arrives on-time, if not early, to your appointment!
Once haulers arrive, they'll observe what you need removed and present you with a volume-based, no-cost quote.
Simply approve our quote so we can begin! Once the quote is cleared, our crew will quickly pick up your old couch and sweep up any debris before disposing of the sofa safely.
Sofa Removal and Disposal
Removing and disposing of your own sofa can be a long and strenuous process, but Junk Bunker makes it easy. To start off your couch removal service, our hauling crew will lift it out of your home or business safely. After loading the couch along with any other junk into their trucks, the team will decide if the sofa is in fair condition. This is because our company values our communities and gives back by donating to churches, families, and other organizations! In the case of a broken, worn-out, or otherwise unusable couch, we turn to furniture recycling. We partner with local recycling centers specializing in bulk items so that your sofa's materials can be put to use! By donating and recycling, we help promote sustainable waste practices in order to keep our environment healthy.
At a sofa recycling facility, workers use approved equipment to break down and separate the couch's components. Upholstery, for example, would be stripped from the wooden or metal frame and reprocessed by shredding and baling. Any wood, steel, or metal would also be segmented into smaller pieces and placed in the proper dumping location. After all recyclable materials are sorted through and handled accordingly, any remaining contents are sent off to a landfill.
About Us
Junk Bunker is a local family-operated junk removal company where you are the first priority! Our staff is well-versed and experienced in the many services we provide and handle every job promptly, yet safely. Founded in October 2021, our friendly company makes a difference in the communities we love by donating and recycling whenever possible.
When you book our experts, you're supporting local business! Not only are we hard-working junk specialists, we're also members of Frankfort Chamber of Commerce. We care about your junk removal needs, keeping our environment clean, and a healthy economy too! In a corporate world of franchises, our local company stands out by offering 5-star personalized junk removal services at affordable prices. While other junk franchises charge steep fees, we prefer to keep it simple with all-inclusive, volume-based rates.
To schedule your couch removal service, call us today or book us online– we'd be happy to work with you!
Indoor and Outdoor Sofas We Take
REVIEWS